Can I tell you that I have an incredible love of cheeseburgers?  Like, if I had to eat one meal forever, it's likely that a great burger and fries would be my pick.  Burgers remind me of summer time cookouts and evenings spent with friends.  A burger is a classic staple that can be made gourmet with the addition of unique cheeses, exotic toppings and creative sauces.
I love that upscale burger joints are popping up all over the place.  The combination of unique toppings seems to be endless and I love to see each restaurant's creativity.  A delicious cheese burger and fresh cut fries is on of my ultimate comfort foods.  My love of burgers is evidenced in a few of my recipes, including Jalapeño Bacon Burgers with Guacamole and Chorizo Cheeseburgers.
One of our favorite local burger chains is Tom and Eddie's.  I first heard about this restaurant via Facebook as 2 friends were raving about the burgers in the same week. I took that as a sign that we had to eat there immediately.  We loved it so much that we ate there twice in a week and have been back countless times since.
While I've enjoyed every burger that I've tried, my absolute favorite is the Ampersand burger.  I have no idea why they named this burger the ampersand.  I like to think it's because the toppings go on and on and on.  Smoked gouda and bacon and barbecue sauce and onion strings and a fried egg.  That many "ands" warrants naming rights don't you think?
Currey declared that the Ampersand burger I created is the best burger he's ever eaten.  High praise for this recipe I tell you!  While this burger requires several ingredients, it actually comes together in about 30 minutes.  The hardest part is not eating all the onion strings while you wait for the burgers to cook!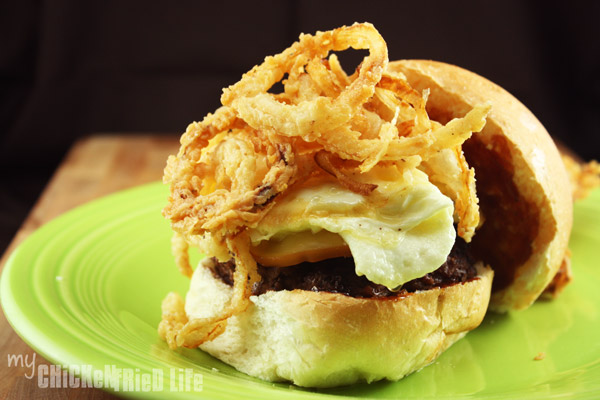 ingredients
1 ½ lbs ground beef
4 hamburger buns
1 batch onion strings
8 slices bacon, fried crisp
4 slices smoked gouda
4 eggs
1 Tbsp butter
4 Tbsp Barbecue sauce
salt and pepper
instructions
Preheat grill.
While the grill is heating, form 4 equal patties out of the ground beef. Use your hands to press the patties into a disk about the size of the hamburger buns you are using. Brush the patties with canola oil, sprinkle with salt and pepper then placed the patties seasoned side down on the hot grill. Brush the other side with oil and season with salt and pepper.
Flip the burgers half way through cooking. Place the 2 slices of bacon an each patty then top with a slice of cheese. Cook burgers to desired doneness and remove from heat. Allow burgers to rest for 5 minutes before serving.
While the burgers are resting, spread each bun with 1 Tbsp barbecue sauce.
Fry 4 eggs in a large skillet with 1 Tbsp butter. Cook eggs to desired firmness. (We prefer ours over easy)
Place each bun on a plate. Top with a patty, which has the bacon and cheese on it. Add the fried egg on top of the patty then top the egg with onion strings.
Top with the second half of the bun. Enjoy pure deliciousness!
https://www.mychickenfriedlife.com/ampersand-burger/