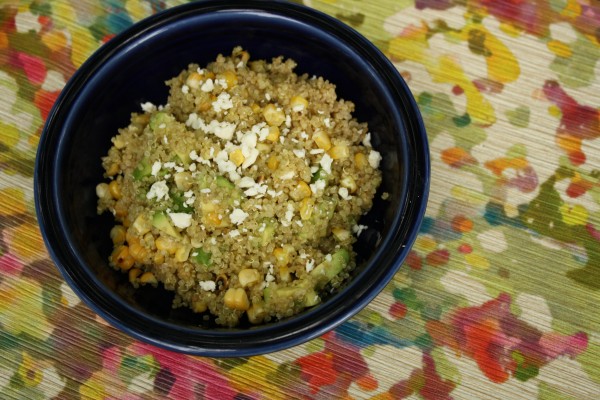 One of the questions that I'm most frequently asked is how we haven't packed on the pounds since I started this blog. The reality is that we eat between 18-20 meals a week at home and many of them aren't worth sharing. Although I make a mean pb&j, I'm not going to bore you with some of the simple and mundane food that we eat each week.  Seriously, Blythe has just stopped eating eggos every day for breakfast. She's been eating them for a solid year and seems to enjoy them every morning.  She's a creature of habit and likes the same breakfast for 1 year at a time.
For every deep fried dinner or decadent dessert, there are lunches of simple salads or meals that we just drink green juice. Since I try to keep most of our meals fairly healthy I don't feel guilty about a meal with more calories. Everything in moderation right?
As I'm sure you've noticed, I'm on the quinoa bandwagon. One night last week we were crunched for time and this quinoa dish just happened. I had another meal planned but hadn't made it to the store for a couple of additional ingredients. I used a few things that I had on hand and we were amazed by the results. The ingredients were so simple but together they made this healthy dinner so flavorful. This Avocado and Grilled Corn Quinoa is a perfect weeknight dinner. Creamy avocado pairs incredibly well with quinoa.  Adding sweetness from corn, a little heat from salsa and tartness from feta makes for a wonderful dinner. If you love quinoa as much as we do, this will be a new weeknight staple at your house too!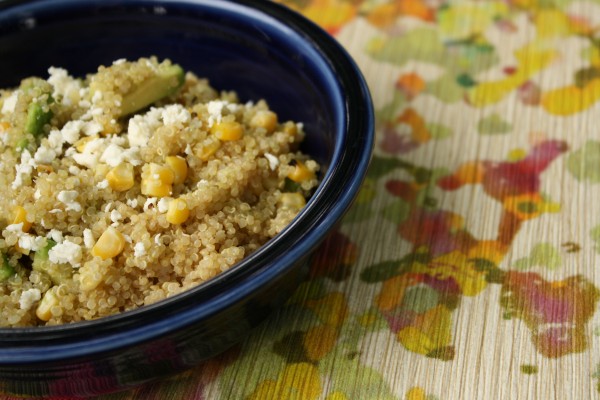 Avocado and Grilled Corn Quinoa
2 cups cooked quinoa
1 avocado, diced
2 ears of corn, charred on the grill and kernels cut off the cob
2-3 Tbsp Salsa
2-3 Tbsp crumbled feta
Combine the quinoa, avocado and corn. Stir to combine. Add salsa (I used tomatillo salsa) and feta and stir again to combine. Eat warm or at room temperature.