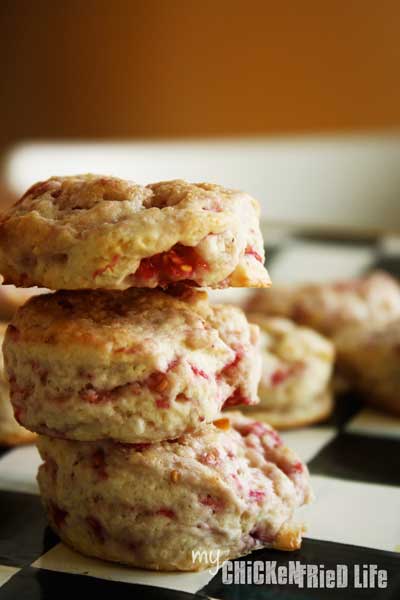 If you've ever eaten a meal at our home, you know that I tend to over prepare. I never want anyone to leave our house hungry so I always tend to go overboard with the food. Which brings us to today's recipe. When Kristie asked me to bring a treat to our get together, I instantly thought of savory scones. But I wasn't sure if Kristie likes savory breakfast treats so I made a Raspberry White Chocolate Scones too. Because  you can never have too many scones.
The Raspberry White Chocolate scones were actually the first recipe I decided on. I'd seen them recently from Joy the Baker and mentally book marked them as a recipe that I wanted to try ASAP. If you aren't currently following Joy, you need to be. Her photos are stunning, her recipes always turn out well and Joy seems like someone I'd like to be friends with in real life.
My kids actually preferred these to the Feta and Chive scones. Bennett ate 8 that morning before I left. To be clear, I didn't feed him that many but he continued to search and climb until he had his fill. Having a boy is a completely different experience! He is curious and adventurous.  I was wrapping up the scones in the kitchen but there was silence in the dining room. Silence usually means trouble so I peaked around the corner to see what he was up to. Bennett had slid the entire platter over to himself and was eating scones by the fist full.  Once I took the platter away he continued to ask for cake.  Clearly, he thought this was a wonderful breakfast!
The original recipe called from strawberries but I had raspberries on hand so I used those instead. I'm partial to raspberries anyway so it was a fitting choice. Raspberry White Chocolate Scones are a perfectly sweet treat. I used a 1.5 inch biscuit cutter, which resulted in petite scones. Again, these would be a delicious treat for any wedding or baby shower that you are hosting this spring or summer. My family gives them 2 thumbs up!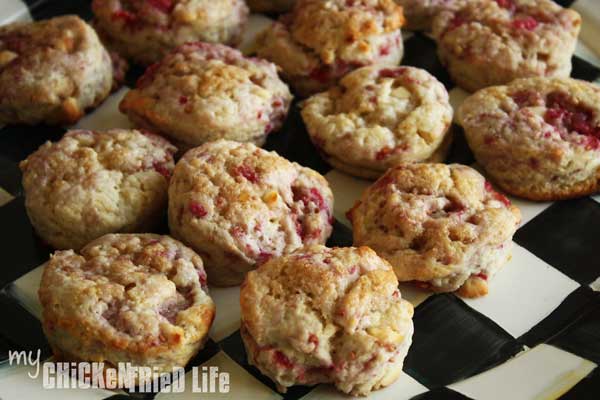 Bite Sized Raspberry White Chocolate Scones
ingredients
3 cups all-purpose flour
1 Tbsp baking powder
1 tsp salt
1/3 cup granulated sugar
1 tsp pure vanilla extract
1 1/3 to 1 1/2 cups heavy cream plus more for brushing the tops of the scones
3/4 cup coarsely chopped fresh raspberries
1/3 cup chopped white chocolate (optional)
Turbinado sugar for topping
instructions
Place a rack in the upper third of the oven and preheat oven to 425. Line a baking sheet with parchment paper and set aside.
Sift together the flour, backing powder, salt, and sugar in a medium bowl. Set aside.
Stir the vanilla extract and 1 1/3 cups cream in a spouted measuring cup. Drizzle the cream mixture into the dry ingredients stirring continually as you pour in the cream. Add the chopped raspberries and white chocolate (if using) and gently fold into the dough. Add 2 more tablespoons of cream if necessary to create a moist dough that is not sticky.
Dump the dough onto a lightly floured work surface. Gently knead the dough into a disk. Carefully press the disk out until it's a 3/4 thick.
Using a small biscuit cutter, to circles from the dough disk. Brush each scone with heave cream and sprinkle generously with turbinado sugar.
Place scones 1-inch apart on the prepared baking sheet and bake for 12 to 14 minutes or until golden brown and cooked through.
Remove from the oven. Delicious served warm or at room temperature.
https://www.mychickenfriedlife.com/bite-sized-raspberry-white-chocolate-scones/
Recipe slightly adapted from Joy the Baker