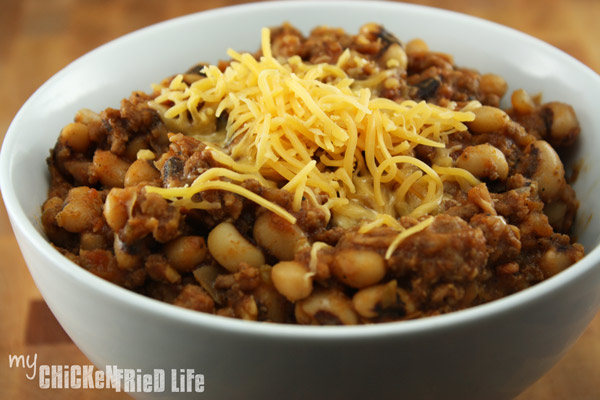 Happy New Year!
Whether you decided to have a quiet night in or go out on the town, I hope that your New Year's Eve was grand.  We spend New Year's with the same group of friends every year.  We enjoy a wonderful dinner together and it's a kid friendly night.  It's my favorite holiday tradition that we have!
Another tradition we celebrate is to eat Black Eyed Peas on New Year's Day.  I haven't lived in Texas in almost 10 years but I continue to be amazed at the number of traditions I practice that are simply Southern.  Yes we wear giant mums to our homecoming games.  We are crazy about our football, whether it's high school, college or professional.  We say y'all and yes ma'am and are known for our  hospitality.  We enjoy comfort food and sweet tea.  Another tradition is enjoying Black eyed peas on New Year's Day.
While I don't believe that eating Black Eyed Peas actually gives me luck, it's a tradition I've always celebrated and I plan to continue with my kids.  Growing up, my dad would always make a big pot of black eyed pea chowder for our family to enjoy on New Year's Day.
I love this black eyed pea chowder and realized that I've never shared it on the blog before so I decided it would be a great way to kick off 2014!  I altered my dad's recipe and I love this new spin on a family favorite.  It pairs perfectly with corn bread and can be garnished with cheese.  It's a hearty soup that can simmer on the stove top while your family enjoys time together on New Year's Day!
Do you eat Black Eyed Peas on New Year's Day or do you have another tradition?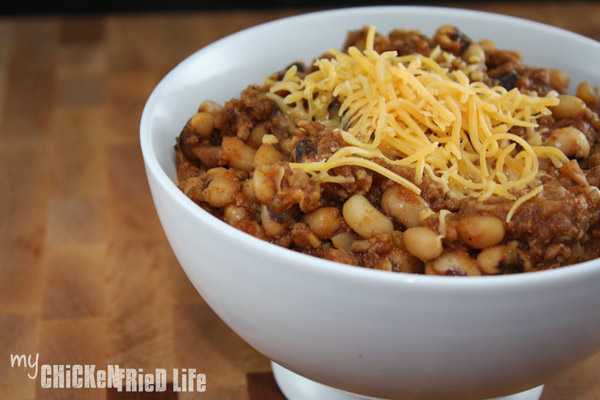 ingredients
1 lb black eyed peas, soaked according to package instructions
6 Slices of bacon
1 large onion, chopped
4 cloves garlic, minced
1 lb pork sausage
1 lb ground beef
1 can beef stock
32 oz salsa
black pepper
salt
cumin
instructions
Prepare black eyed peas according to package instructions. (Typically the beans are soaked over night before use).
Fry 6 slices of bacon in a large stock pot.
Remove bacon leaving grease in the pot. Saute onion in the bacon grease for 3-4 minutes. Add garlic, sausage and ground beef to the onion and brown.
Drain meat and onion mixture then return to the pot. Add stock and salsa. Season with salt, pepper and cumin. Stir to combine. Allow to simmer 20-30 minutes. Adjust seasonings as needed. Simmer until ready to serve.
https://www.mychickenfriedlife.com/black-eyed-pea-chowder/