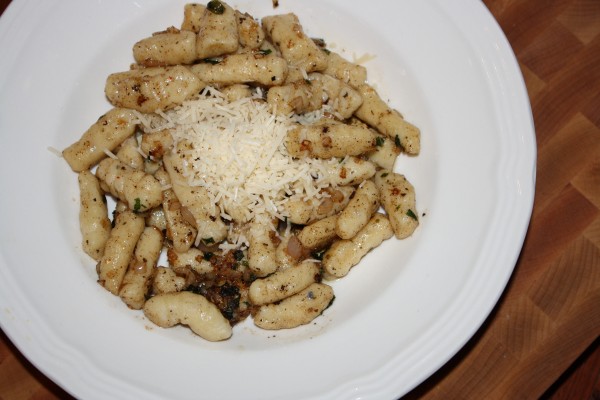 The first time that I remember having gnocchi, we were at a nice Italian restaurant in Chicago.  When Currey ordered, the waiter corrected his pronunciation of the dish.  It's one of those stories that we still laugh about although as I type this I realize it doesn't sound very funny.  I don't remember what gnocchi tasted like from that experience but I do know when I fell head over heels in love with gnocchi.  Blythe had just been born and a woman from our church, Fran, brought dinner.  She delivered homemade gnocchi and spaghetti sauce with meatballs.  Oh my deliciousness!  While I was pregnant with Bennett I regularly told Fran that I was having another baby just so she would bring me gnocchi again once Bennett was born.  I was only kind of kidding.  And yes, she brought us gnocchi after Bennett's arrival too.  She clearly loves us!
I'd never considered making gnocchi myself because I'd heard that it was so time intensive and really quite a hassle.  But then I saw a recipe on Pinterest for "Lazy Girl Gnocchi" and I was intrigued.  I knew that I had to give this Brown Butter Sage Gnocchi a try and I'm so glad that I did!  We enjoyed this for dinner on Valentine's Day and it was a great date night in dinner.  I'll be the first to admit that I was horrified as this recipe called for potato flakes.  I knew that gnocchi was made from potatoes and I felt like using potatoes from a box was cheating.  And then I remembered this was an easier version so I got over myself and made gnocchi.
The dough came together in a matter of minutes.  We found the most labor-intensive part of scoring the gnocchi with a fork.  It cooks in a matter of minutes.  The browned butter sage sauce is out of this world.  My mouth is watering now as I type this!  Dinner was on the table within 45 minutes.  I've made this several times since and doubled the batches.  You can freeze half so you'll have some to enjoy on another evening.  This would be a great dish for an at home date night or if you are entertaining friends.  I bet this will become a new family favorite.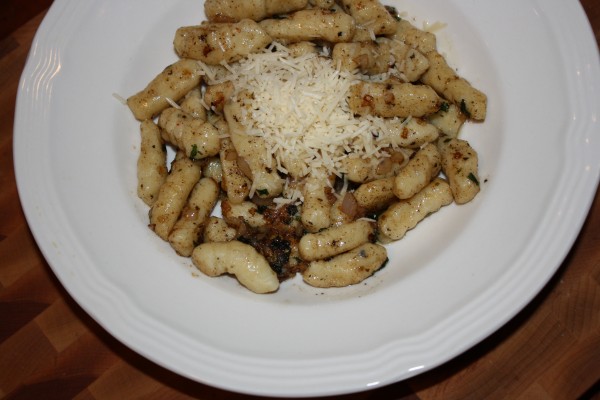 Brown Butter Sage Gnocchi 
Ingredients:
Gnocchi:
2 cups instant potato flakes
1 cup all purpose flour, plus more for rolling
1 cup water
2 eggs
2 tablespoons butter, melted
1 teaspoon salt
1/2 teaspoon oregano
freshly ground black pepper, to taste
Brown Butter Sage Sauce:
1 stick unsalted butter
2 shallots, thinly sliced
3 tablespoons fresh sage, minced
Freshly ground black pepper and salt, to taste
½ cup grated asiago cheese
Directions:
In a food processor, combine all ingredients.  Mix on low speed until dough forms.
Divide the dough into 6 equal pieces.  Taking 1 piece at a time, roll dough into a long rope on a lightly floured work surface.  The rope should be about ½ inch in diameter.
Slice the rope into ½ inch long pieces. Taking one piece at a time, roll the tines of a fork against the dough until slight indentations are formed. Repeat with each piece of dough then place formed gnocchi on a floured baking sheet.
Bring a 6-8 cups of water to a boil in a large pot. Add a pinch of salt to the water then add the gnocchi.  Gnocchi will float to the top of the water when it's done.  Remove the gnocchi with a slotted spoon and spread on a baking sheet while the brown butter sauce cooks.
While the gnocchi are cooking, heat the butter in a deep skillet over medium-high heat. Once melted, let the butter sit undisturbed until the outside edges have begun to brown and caramelize. (This takes about 2 minutes.) Quickly swirl the skillet and add shallot and sage.
Cook butter mixture for 1 minute longer, seasoning with salt and pepper to taste.  Add gnocchi to skillet to toss with sauce and reheat if necessary. Sprinkle with asiago cheese and serve immediately.
*Gnocchi may be refrigerated uncooked for up to 2 hours or frozen on a baking sheet and then transferred into a covered container.  Can be stored in the freezer for several weeks.
Recipe from The Novice Chef