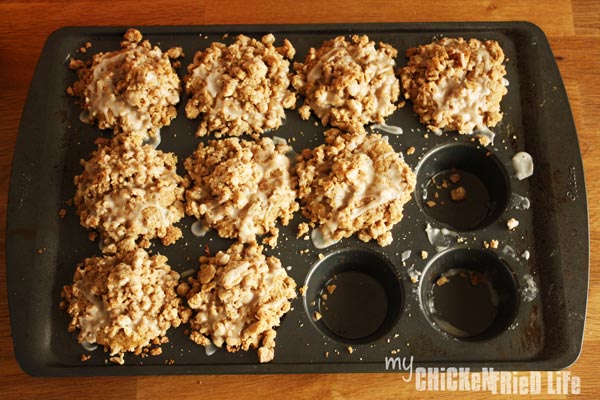 Growing up, I spent a month at camp every summer.  My time at Kanakuk was a highlight of every year and I would have spent my entire summer there had that been allowed.  I made life long friends, my faith was shaped and I had a month full of fun.  It was a wonderful way to spend a chunk of my summer every year.
All kids that grew up going to Kanakuk would surely tell you about the coffee cake that was served every Sunday for breakfast.  Camp food was a stretch for my picky tastes but every Sunday morning I enjoyed a couple of pieces of coffee cake.  It was usually served warm from the oven and was a simple cake with a cinnamon crumb topping.  Coffee cake was a perfect start to a laid back day of camp.
I actually spent 2 summers working at Kanakuk in college and I realized that the coffee cake was just as delicious as I'd remembered as a camper.  While I have no idea if their coffee cake was from a box or homemade, it was delicious.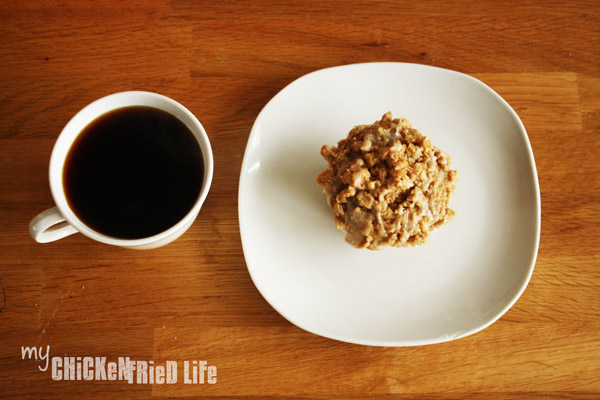 I'm not sure why but until recently I'd never tried to make homemade coffee cake.  Maybe it was one of those foods that was so nostalgic I hated to recreate it in fear of falling short.  Or maybe the thought of an elaborate breakfast was more than I could fathom on a typical weekday morning.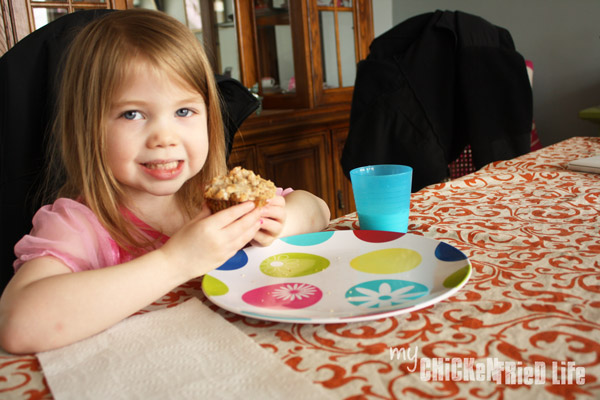 As soon as I saw this recipe for Coffee Cake Muffins from Damn Delicious, I knew that I had to give them a try.  I decided to get up early and have these coffee cake muffins ready for my kids for breakfast.  Blythe dubbed them "the goodest thing" I've ever made and has requested them every day since.  Bennett chose to just dive into the crumb topping.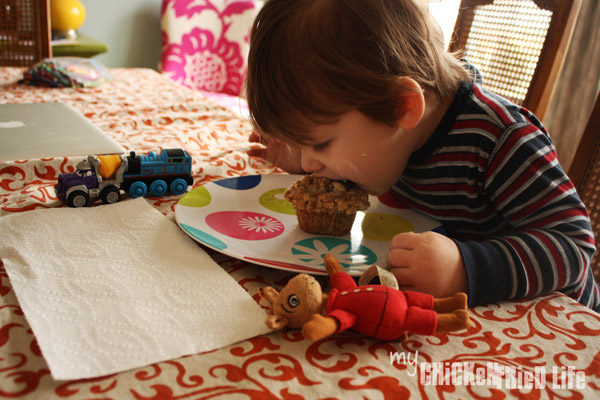 I can not stress how easy these are to make!  The batter is basic so the wow factor is the crumb topping.  I covered all the cakes in topping and realized that I still had half the crumb mixture.  There is so much crumb mixture that each muffin has a small mountain of crumbs on top.  That's what makes them so good!
Whether you are sharing breakfast with your family or hosting overnight guests, these coffee cake muffins will be a huge hit.  My family loved them so much I made them twice in a week!  I hope that your family enjoys them as much as we did.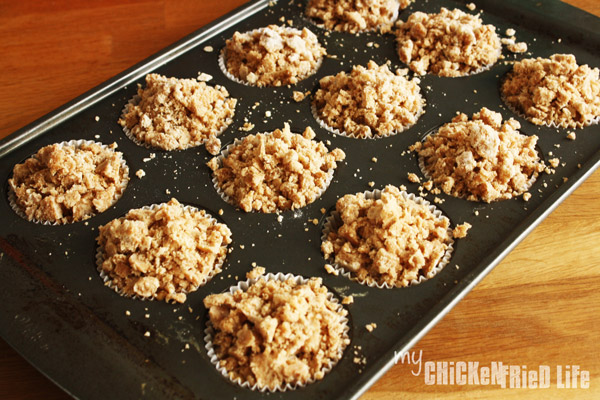 ingredients
For the Crumb Topping:
1/3 cup Granulated Sugar
1/3 cup Light Brown Sugar
1 teaspoon cinnamon
¼ teaspoon salt
½ cup (1 stick) unsalted butter, melted
1 ¼ cups all-purpose flour
For the Cake batter
1 1/2 cups all-purpose flour
1/2 cup Light Brown Sugar
2 teaspoons baking powder
1 teaspoon cinnamon
1/4 teaspoon baking soda
1/4 teaspoon salt
3/4 cup milk
1/3 cup canola oil
2 large eggs
For the Glaze:
½ cup confectioners' sugar
1 teaspoon vanilla
1 Tablespoon Milk
instructions
Preheat oven to 375 degrees F. Line a 12-cup standard muffin pan with paper liners and set aside.

For the Crumb Topping:

Combine sugars, cinnamon and salt in a medium bowl. Stir in melted butter with a fork. Add flour and stir until combined. Spread the mixture out on a parchment lined baking sheet to dry until time to use.

For the Coffee Cake Batter:

In a large bowl, combine flour, sugar, baking powder, cinnamon, baking soda and salt. In a another large bowl, whisk together milk, canola oil and egg. Pour this mixture over the dry ingredients. Combine ingredients just until moist.
Pour the batter evenly into the muffin cups. Divide crumb topping evenly between all the muffins, making sure to gently press the crumbs into the batter.
Place muffins into oven and bake for 15-17 minutes, or until toothpick inserted in the center comes out clean.

For the Glaze:

Combine confectioners' sugar, vanilla and milk in a small bowl. Whisk with a fork until smooth. Add more sugar to reach the desired thickness of glaze.
Liberally drizzle the glaze on each muffin after they have cooled about 10 minutes.
https://www.mychickenfriedlife.com/coffee-cake-muffins/
Recipe slightly adapted from Damn Delicious