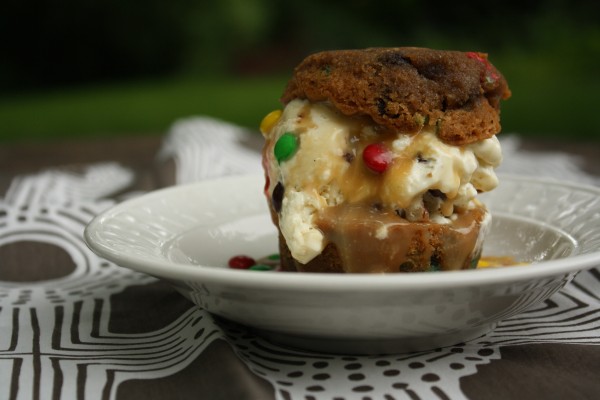 When Kristan from Confessions of a Cookbook Queen and Shelly of Cookies and Cups announced that they would be hosting a Creative Recipe Contest a couple of weeks ago I was so excited!  I've followed both blogs for several months now and I've made several recipes from both of their sites.  I loved the idea of recreating a recipe from their archives and immediately got to work reading through their recipes.
I'm still figuring out how to consistently create my own recipes and the idea of recreating an existing recipe was an exciting challenge.  I decided to check out recipes from Confessions of a Cookbook Queen simply because I haven't known about her site as long.  I've made over a dozen of recipes from Cookies and Cups and even shared a couple of them here as well.
I seriously had a light bulb moment when I saw these Everything Bars on the site.  I'm a lover of ice cream and I thought that I could create an amazing ice cream dessert out of these ingredients. How could you go wrong with cookie dough, m&m's, marshmallows, caramel and pretzels?  Clearly this is a winning combination!  I decided to enter these Everything Ice Cream Cookie Sandwiches in the Creative Recipe Contest hosted by Confessions of a Cookbook Queen and Cookies and Cups!
I started with toasted marshmallow ice cream.  This is one of those recipes that had been on my radar for months because I had another project I wanted to use it for.  Truth be told, I'd been thinking about making Trail Mix Krispies from Cookies and Cups into an ice cream.  Shelly is the Queen of Krispie Treats and I've LOVED each variety that I've tried. I started with a basic vanilla base and added toasted marshmallows to the mix.  I then added chocolate covered pretzels to the ice cream as well.  The ice cream is sandwiched between 2 m&m chocolate chip cookie cups and then the whole thing is drizzled with caramel.  It's one of the most amazing creations to come out of my kitchen!
This is not a recipe that you could quickly whip up  minutes before your dinner guest arrive but I did each piece on a separate day so it was less time consuming.  The finish product is well worth all the hard work that you put into it!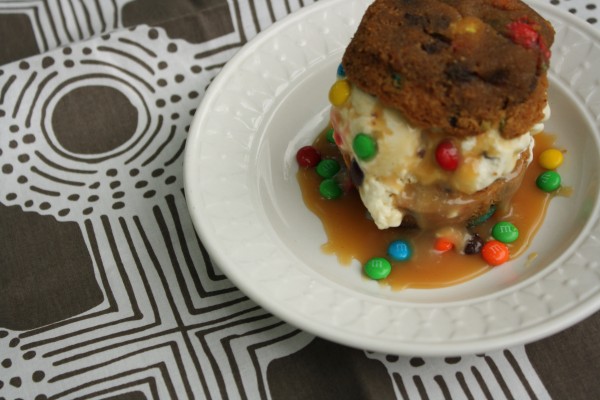 Everything Ice Cream Cookie Sandwiches 
Toasted Marshmallow Ice Cream
Adapted slightly from Roasting Rambler
10 oz bag of large marshmallows
1 vanilla bean
1 cup milk (I used 2%)
1 cup ½ and ½
5 large egg yolks
1/2 cup sugar
1 cup heavy cream
1 teaspoon vanilla
1 cup chopped chocolate covered pretzels
Spread the marshmallows in a single layer on a parchment-lined baking sheet. Toast the marshmallows under the broiler or with a kitchen torch.  (I used the broiler) Keep a close eye on the marshmallows as they will quickly burn.  Carefully flip the marshmallows, as they will be incredibly hot, so that each side is toasted.  Remove from the oven and set the marshmallows aside to cool.
Place milk, ½ and ½  and cream in a medium sauce pan over medium heat. Using a small knife, cut the vanilla bean long ways down the middle. Scrape the insides of the bean with the back of the knife to remove the seeds. Place the seeds and the vanilla bean into the milk mixture.  Bring the mixture to a simmer.
While the milk mixture is cooking, whisk the egg yolks and sugar in a heatproof bowl. While whisking constantly, add the warm milk mixture ¼ cup at a time. Repeat 3-4 times. Pour the egg mixture back into the saucepan and set over medium-low heat. Stir constantly until the mixture thickens enough to coat the back of a spoon.  Strain the custard through a mesh sieve into a large bowl. Stir in the vanilla.
Let the milk mixture cool for 10-12 minutes.  Once cooled, add the toasted marshmallows to a blender and then add the cooled custard too.  Blend until the marshmallows are completely broken down and the mixture is smooth.
Pour this mixture to a bowl, cover with plastic wrap and refrigerate until thoroughly chilled.  (This takes at least 4-6 hours)  When ready to churn, stir the mixture until the custard is smooth and is easy to pour.  (Mine was really bubbly when I took it out of the fridge and had to be stirred for several minutes) Freeze in your ice cream maker according to the manufacturer's instructions. In the last 2 minutes of churning, add the pretzel pieces.  Transfer to airtight container and freeze until firm, at least 2 hours.
M&M Chocolate Chip Cookie Cups
15 oz Store bought, refrigerated chocolate chip cookie dough
1/2 cup mini M&Ms
Spray 8 sections of a muffin tin with floured baking spray.  Set aside.
Combine M&M's with store bought dough.  Mix with your hands until totally incorporated.  Separate dough into 8 equal pieces.  Form each piece into a flat round disk.  Place each disk into a section of the muffin tin, pressing dough into the cup and up the sides.
Bake at 350 for 10-12 minutes or until cookie cups start to brown.  Let cook in the muffin tin for 10 minutes before carefully removing.
To assemble each dessert, set one cookie cup on a plate.  Top with 1 scoop of toasted marshmallow ice cream.  Sprinkle with additional mini M&M's and drizzle with caramel sauce (store bought or homemade).  Top with a second cookie cup that's upside down, so the ice cream fits securely between the cookies.  Enjoy!
Recipe adapted from Confessions of a Cookbook Queen