In case you missed my last post, I'm recapping our recent New England Driving Tour. Getting out of town was rough! Bennett and I had been struggling with illness and we were all up most of the night before we left. It was so hard to leave a sick baby at home! After much discussion, we decided to make our trip as scheduled. While we knew the kids would be in good hands, it was still hard to leave.
We got to the airport with enough time to grab a quick breakfast burrito from Lalo's before boarding our flight. We are usually juggling kids on a flight so it was nice to read a book and sip coffee on the flight. We landed in Boston and got our rental car. It was brand new with only 9 miles on it. So fun to have a brand new car for our trip!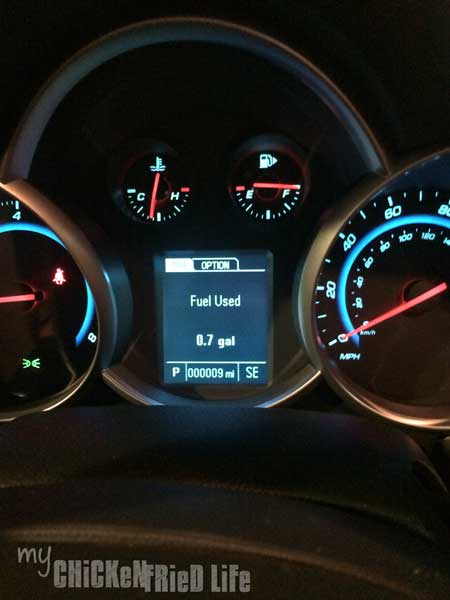 We'd been warned about traffic and driving in Boston but we weren't prepared for the craziness. We drove around for an hour looking for parking and when we finally found a spot Currey had to squeeze the car into it.
The stress of the drive and our difficulty finding parking melted away as walked the streets of Boston. That and getting a call from my parents that they had safely landed and relieved our faithful babysitter that had been up with Bennett since 5 am. (Thank you Kelsey!)
We made our way to Mike's Pastry. I'd read lots of reviews a quickly discovered that asking a Bostonian about their favorite Cannoli is like asking a Chicagoan about their favorite pizza place. People are passionate! We settled on Mike's because it's iconic and I totally understand why!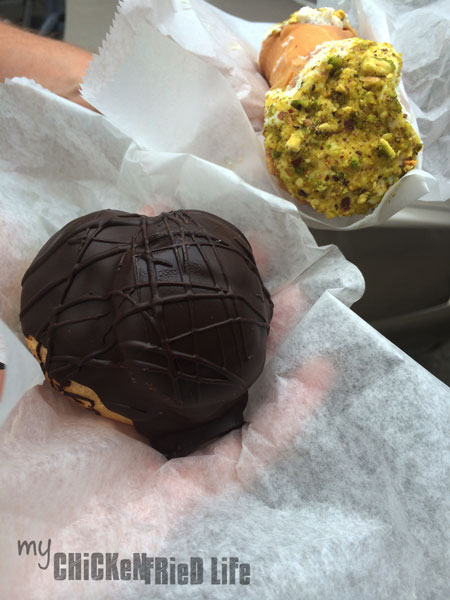 Currey ordered a Pistachio Cannoli, which was incredible. Crunchy shell, creamy filling and dipped in pistachios. You can't go wrong! I got a Boston Cream Puff because I wanted to try something different. It was totally intimidating to eat but I managed. A basic dough, generously filled with cream and dipped in chocolate. I loved every last bite.
Since we were already in Little Italy, we knew we wanted to have lunch there too so we asked the clerk where he would recommend for lunch. He recommended Antico Forno which was an outstanding choice! Each restaurant in the area proudly displays their awards and accolades outside their doors to encourage you to dine there. Antico Forna is ranked one of the top 10 Italian restaurants in the world. I'm not sure who makes these rankings but we would agree that the food is amazing.
The restaurant was quaint. The front of the restaurant had large windows, which were opened during lunch allowing a nice breeze through the restaurant. A big step up from our usual lunch spots!
Since we'd just enjoyed treats from Mike's, we decided to split lunch. One of the specials of the day was lobster ravioli with grilled shrimp on top. We'd made a deal to eat all the seafood we could on this trip so lobster ravioli seemed like a logical choice.
Our meal was truly incredible. The ravioli was homemade in house and you could taste the freshness. The marinara sauce was creamy and flavorful but didn't overpower the flavors of the ravioli. It was so rick that splitting it was a perfect portion.
We took in a few of the sites on the Freedom Trail as we head back to our car. A quick stop for iced coffee and we were on the road to Portland, Maine. Besides the stunning scenery we spent our time listening to the Serial Podcast. We'd heard so much about this show and it totally lived up to the hype! If you are looking for something interesting to listen to on a road trip or your daily commute, I'd highly recommend it.
Once we got settled in our hotel, we headed to downtown Portland for dinner. Duck Fat was one of the first restaurants that we had researched and I was so anxious to finally enjoy a meal there. We opted to again split a meal and settled on the Cuban sandwich that was on special and a large order of Duck Fat Fries. Hands down the best Cuban sandwich I've ever eaten. The fries were equally spectacular. The order comes with dipping sauces to we tried truffle ketchup, Horseradish Mayo, and Thai Chili Mayo. The truffle ketchup was a delicious twist on a classic dipping sauce, which I really enjoyed. The horseradish mayo was spicy but not too overpowering and was Currey's favorite option. We agreed that the Thai Chili Mayo had too much going on for our taste. While the milkshakes looked enticing, we were too stuffed to indulge.
We spent time walking around downtown and enjoying the views along the water. There were so many small restaurants and boutiques to check out as well as great people watching. After a long day of travel, we headed back to the hotel to plan for the next day and to get some sleep. Come back tomorrow for the recap of our second day in Portland.