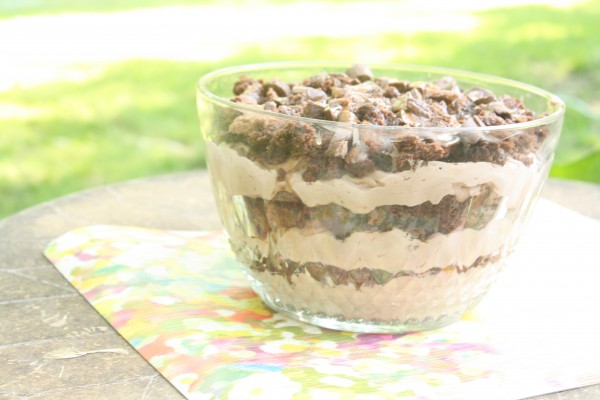 There is a small group of people outside of my husband and kids that regularly taste test recipes for the blog. Besides 2 of our students, the other members of our Grub Club eat lots of new recipes. The idea for our Grub Club was that we all like good food so we would get together monthly to cook a meal together.
Our first get together was nearly 3 years ago on New Year's Eve and we've met at least every other month since then. On occasion we enjoy dinner out but typically, we pick a type of cuisine, divide up the menu and then all head to someone's home to prepare it.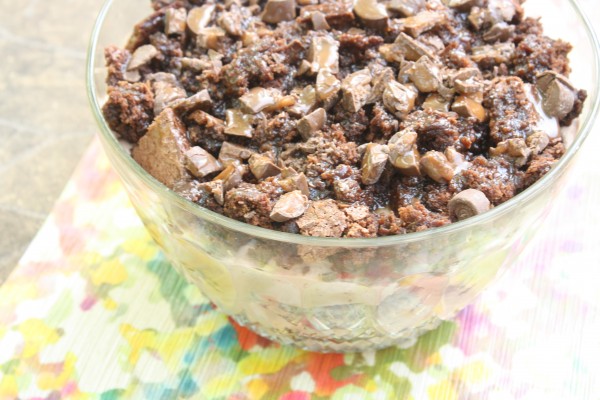 To Currey and I, time with these friends is sacred. We crave our time together. Our friendships are real and honest. We have freedom to completely be ourselves and we are loved just as we are. We celebrate milestones and have standing New Year's Eve plans for the next 30 years.
Over the summer we shared dinner to celebrate the Carmen's buying a new house. I was responsible for dessert so I made this Rolo Brownie Trifle. I'd pinned these adorable personalized Rolo Trifles on Pinterest but when it was actually time to cook I opted for a gigantic bowl of trifle. This was a delicious decision!
I also doubled the original recipe (the recipe below is what I used). I didn't want to run out of brownies and I was glad that I had doubled them. Because I used mini rolos and doubled the batter, as the brownies baked, the Rolos completely disappeared. I loved this outcome. Each brownie bite had little chocolate and caramel ribbons throughout which was oh so tasty. As you would expect, this was a very decadent treat but it was worth every last calorie.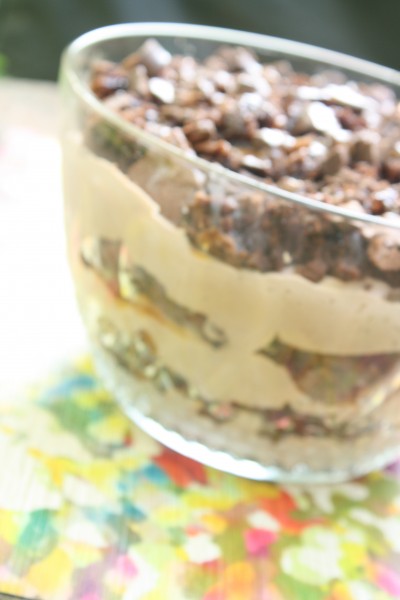 Rolo Brownie Trifles
For The Brownies
2/3 cup unsweetened cocoa powder
1 cup flour
1/2 teaspoon salt
1/2 teaspoon baking powder
1 cup (2 sticks) unsalted butter
2 cup sugar
4 eggs
2 teaspoon vanilla
1 package Rolo Minis, chopped
Preheat oven to 350 degrees. Grease 9 x 13 inch glass baking dish with cooking spray (I used the type with flour also in the spray).
Combine the cocoa powder, flour, salt, and baking powder in a small bowl. Use a fork to break up any clumps and make sure that all ingredients are completely incorporated. Set aside.
Melt the butter over low heat in a large saucepan. Once the butter has melted remove from heat. Stir in the sugar to the butter until completely combined
Whisk in the eggs, one at a time. Make sure to thoroughly mix before adding the next egg. Stir in the vanilla.
Add in the dry ingredients, whisking until combined. Once batter is smooth pour it into the greased baking dish.
Sprinkle the chopped Rolos over the top of the batter.
Bake for 30 – 35 minutes or until the edges are set and a toothpick inserted into the middle of the brownies comes out clean.
The brownies need to cool completely before they are cut into bite sized pieces.
For the Trifle
2-3 additional rolls of Rolos, chopped for layering and garnish
whipped cream
caramel sauce
To assemble the trifle: Layer the bottom of your bowl with whipped cream. Top a generous layer of bite sized brownie pieces. Sprinkle with additional chopped Rolos and drizzle liberally with caramel. Repeat the layers until the bowl is full. Garnish the top layer with chopped Rolos and more caramel. Chill until ready to serve.
Recipe from Bakingdom