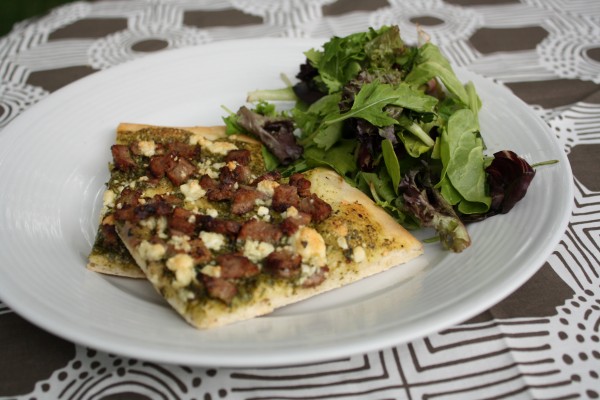 Remember when I wrote about attending my first blog conference? Once of the best meals that I had on that trip was at a restaurant called Reserve in Kansas City. I never expected such an amazing meal from a restaurant inside a hotel but I still dream about those shrimp corn dogs. They were seriously delicious! There was jazz music, stunning décor and comfy chairs, which all just added to our dining experience. Getting to enjoy a meal with my dear friend Kaki just made the experience that much sweeter.
While I've kept dreaming about those corn dogs, I've been just as obsessed with another entrée on their menu. I could not decide between the shrimp corn dogs or the steak and gorgonzola pizza. Our waiter recommended the shrimp so I went with that but I simply couldn't shake the thought of that pizza from my mind.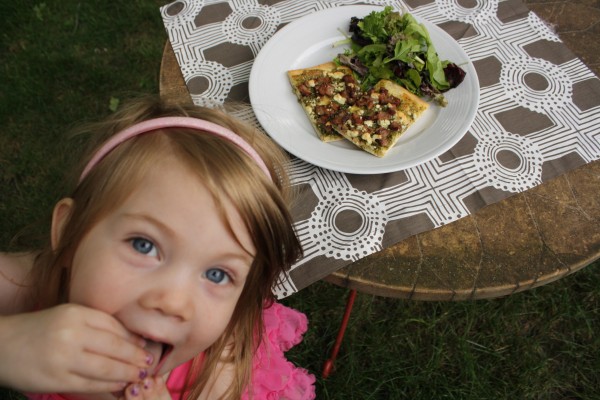 My thought process on developing this recipe reminded me of that episode of Friends where Rachel makes the trifle with 2 separate recipes so it's half a trifle and half Shepard's pie. Joey is the only friend that enjoys the dish and reports that he likes all the ingredients in the recipe so why wouldn't they be good together? In regard to this pizza my thought process was steak…good. Gorgonzola…good. Pesto…good. All combined on a pizza…good. I was convinced this would be a winning recipe.
I started by making a gorgonzola pesto. I had planned to use arugula as the base but my local grocery store was out of arugula. I used a "spicy lettuce mix" that was a combination of arugula, spinach and red lettuce. It had the peppery bite that I was looking for but I think just arugula would be fantastic too.
This is a quick and easy weeknight dinner as the pesto and pizza dough can be made ahead and refrigerated. I grilled a steak for this recipe but you could easily substitute grilled chicken as well. I made a double batch of the pesto and it's delicious on pasta as well.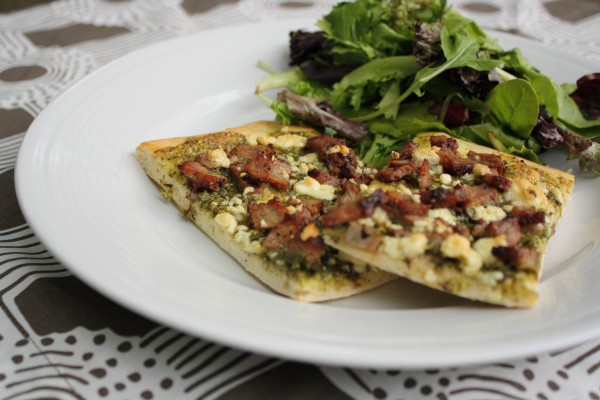 Steak and Gorgonzola Pizza
ingredients
4 oz Gorgonzola, divided
1 cup mixed salad greens
2 Tbsp olive oil
1/2 tsp salt
1/2 tsp pepper
8 oz grilled steak, chopped
instructions
Set oven to 500.
Combine 2 oz Gorgonzola, salad greens, salt and pepper in a food processor. Begin to stream the olive oil into the food processor as you pulse the other ingredients together. Continue to process until pesto is smooth. Adjust seasonings then set aside.
Roll out your pizza dough. Spread 4-5 Tbsp of pesto onto the dough then top with chopped steak and remaining 2 oz of Gorgonzola.
Bake pizza for 10-12 minutes or until the edges of the pizza begin to brown.
Remove from oven and cool for 3-5 minutes. Cut and serve.
http://www.mychickenfriedlife.com/steak-gorgonzola-pizza/