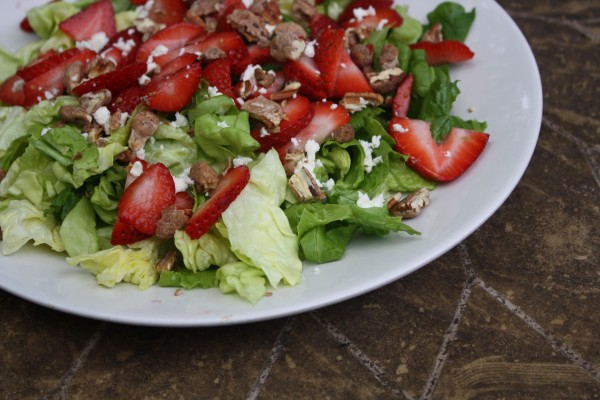 One of our favorite stories to share about our first date was the meal that Currey saw me devour.  You see, I wasn't too sure that this relationship would go anywhere.  We lived hours away from each other, we were going to different schools and I was still slightly bitter that he had dumped my best friend before prom 2 years prior.
Although we were now in college, my experience with Currey in high school lead me to believe I might not be crazy about this boy.  I was home from school for the weekend and he asked me to dinner.  I agreed and we went to Gardski's for our very first date.  I had no shame and a high metabolism so I ordered Fries in Disguise with no chives, my staple meal at Gardski's.  In case you've never frequented Gardski's this is a ginormous pile of fries, covered in melted cheese, crumbled bacon with ranch on the side for dipping.
I could easily polish off half the platter of fries and did just that while out with Currey that night.  Thankfully he wasn't horrified by my choice in food and took me out again.  Clearly, I was wrong about who Currey was and I realized that I was indeed crazy about him (And for the record, I continue to be completely crazy about him!).  That was actually one of the many times during our relationship that he has seen me enjoy a full days worth of calories in one meal.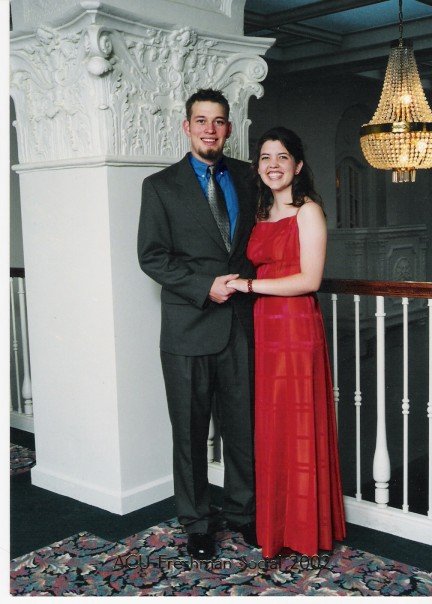 Thankfully, my tastes have evolved and I've realized that eating greens is an important part of my diet.  Or more realistically, if I ever want my children to eat veggies, I have to start eating them myself!  That and I no longer have the metabolism of an 18 year old!  If a "salad" is just iceberg lettuce and shaved carrots, I'll pass but a salad with vibrant greens and lots of fresh and colorful toppings then I'm all in!  This summer we've had salad for dinner at least once a week and I've loved coming up with new flavor combinations.  It's been fun to find new ingredients and get creative in the kitchen. I've also been amazed as I watch my kids eat all sorts of new foods because they see Currey and I doing the same.
I recently saw these cinnamon sugar pecans on a trip to Target and thought they would provide me with inspiration in the kitchen.  I was not disappointed!  Really, who wouldn't love pecans coated in cinnamon and sugar.  I'm a loyal Target shopper because I can get everything in one place.  I love the Archer Farms brand and they have so many interesting products. (No, Target isn't paying me to say this!  I just LOVE Target!)
The first recipe that I made was a Strawberry Feta Salad with Candied Pecans.  The sweetness of the strawberries and pecans coupled with tart Feta cheese is a perfect combination.  I used romaine and butter lettuce as the salad base.  I've found that I really love having a blend of lettuce in any salad I make these days.  I love this recipe because it's an easy weeknight dinner.  It doesn't require any "cooking" and comes together in about 15 minutes.  It's a salad my whole family loves!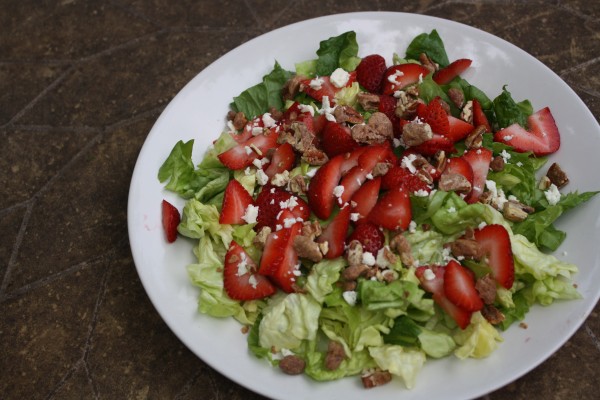 Strawberry Feta Salad with Candied Pecans
Ingredients
2 Romaine hearts, chopped
2 heads butter lettuce, chopped
1/2 pint strawberries, sliced thin
1/2 cup chopped pecans
1/4 cup feta cheese
Salad Dressing (I used a balsamic strawberry dressing that was market pantry brand)
Directions
Combine romaine, butter lettuce, strawberries, pecans and fetta.  Toss with dressing and serve.