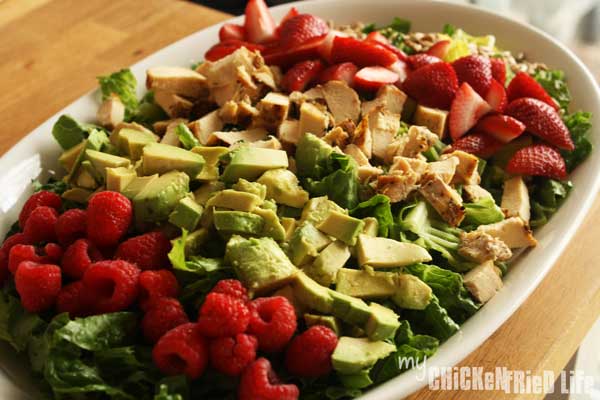 Have you heard of Door to Door Organics? It's a company that delivers organic fruits and vegetables to your front door. What makes this great is that the customer picks how often to get boxes and what size box to get. The order is easy to customize too. I get an email 5 days before I'm scheduled to get a box. I can swap out the items I don't want for fruits and vegetables we are more likely to eat.
One reason that I was interested in this service is that we simply don't eat enough vegetables. Yes, in theory I could go to the store and purchase a random assortment of vegetables and have the same outcome. But by subscribing to this service, the vegetables are delivered to me which means I'm much more prone to eat them.
One of the easiest ways that we've seen to add veggies is with salads. This is the time of year that all food blogs seem to be sharing their favorite salads so I decided to jump on the salad bandwagon too. I made this Summer Chopped Salad for Currey and I a couple of days after receiving a Door to Door Organics box. I've realized that salads have to happen within a couple of days of the box's arrival or the lettuce starts to wilt.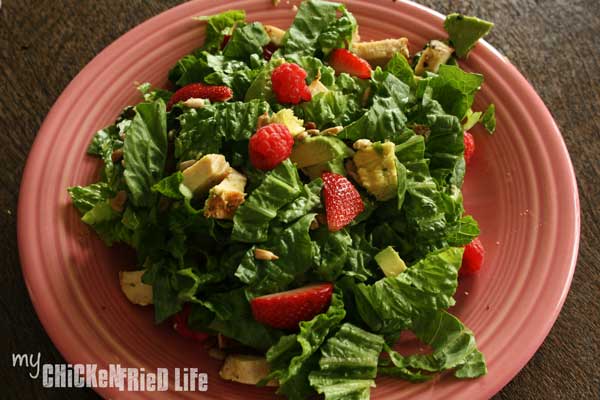 As soon as spring hits, I begin stocking up on berries. My kids can down a 4 pound Costco crate of strawberries in a week! Raspberries and Strawberries were a great addition to this Summer Chopped Salad.  I'd just been to the store so we had fresh fruit and I also had avocados from my Door to Door Organics box. I used a leftover grilled chicken breast for some protein and sunflower kernels for crunch. You could easily customize this salad with your favorite fruit or substitute pecans or walnuts for the sunflower kernels.
In additional to being beautiful, this was a filling and delicious salad. It perfectly captures some of my favorite summer flavors. Toss with your favorite vinaigrette and enjoy a lovely lunch.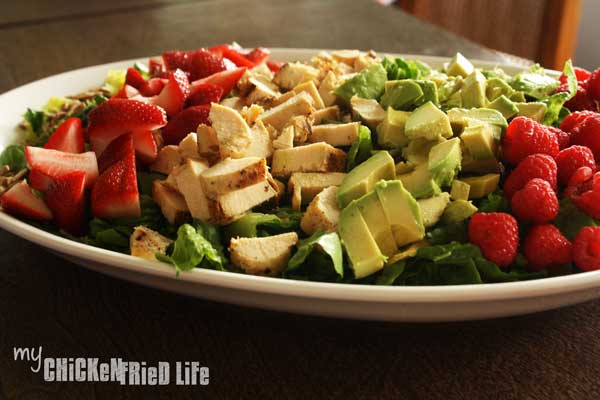 ingredients
4 cups romaine lettuce, chopped
1 grilled chicken breast, cubed
1 cup raspberries
1 cup strawberries, quartered
1 avocado, cubed
1/4 cup sunflower kernels
Salad dressing of choice
instructions
Place lettuce in a large bowl. Add all toppings. Drizzle with salad dressing then toss to coat.
Serve and enjoy!
https://www.mychickenfriedlife.com/summer-chopped-salad/
*This is not a sponsored post. I've really enjoyed my experience with Door to Door Organics and wanted to share the company with you.