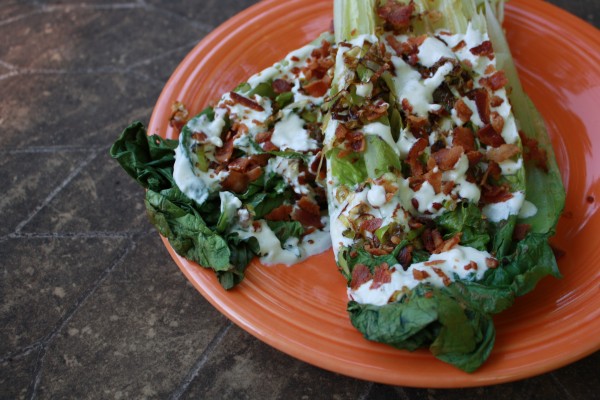 Remember the Guy's Night that we hosted?  Currey had a friend that came over and was raving about a salad that he had just enjoyed.  Seriously, I've never heard such ravings about a salad.  He and his wife had just eaten at Flour + Wine and they highly recommended the restaurant.  Currey and I decided to try it out for my birthday and it was even better than we expected.
The entire meal was fantastic.  Of course I had to try the grilled romaine salad because our friends just raved about it.  Oh that salad! For starters, I'm not a salad eater. This salad also came with blue cheese dressing which I didn't even think I liked.  I seriously woke up the next morning craving this salad.  I have rarely eaten a meal that I was so impressed with.  I began planning how to make the same salad in my kitchen.  The ingredients are simple but the flavors combined are phenomenal.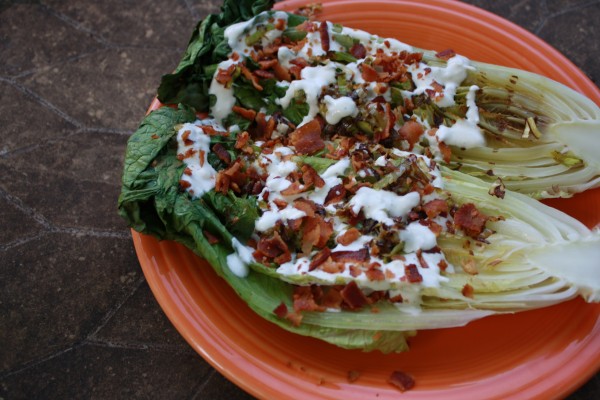 Grilled Romaine Salad
Ingredients
2 hearts romaine, quartered
6-8 slices bacon, cooked and crumbled
2 leeks, white stalks sliced thin
Blue cheese dressing (I made this dressing from My Baking Addiction)
Directions
Start by quartering the romaine hearts.  Cut through the core of the romaine heart but leave the base intact to that it stays together when you grill it.
Cook the bacon.  Reserve 1 Tbsp bacon grease.  Add 1 Tbsp butter and melt over medium heat.  Cook the leeks in the butter and bacon grease until crisp, 7-10 minutes.
While the leeks are cooking grill the romaine over medium heat until charred, 1-2 minutes on each side.
Plate the romaine and top with crumbled bacon and sautéed leeks.  Drizzle with your favorite blue cheese dressing and enjoy!
*In the pictures the romaine is only halved.  It looked prettier for pictures than quartered romaine.