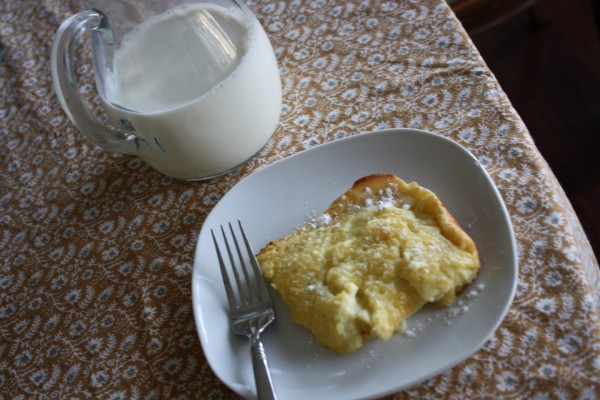 Like so many other students heading to college, I went potluck for a roommate.  While we dealt with the usual issues of being a freshman and living with a stranger, my roommate, Sarah Ruth, and I got along well.  We actually lived together for 2 years before living with other people.  The picture below was taken several years after graduation when we met up in Austin.  Currey and I were on vacation and enjoyed catching up with Sarah Ruth over breakfast together.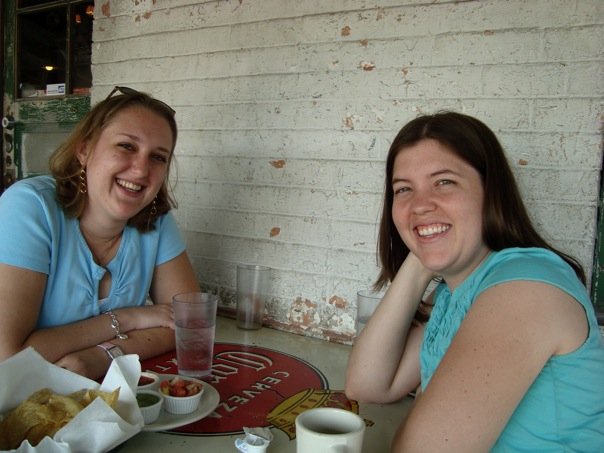 Our sophomore year we were thrilled when we won the lottery for a room with a kitchen.  The word kitchen should have had quotes around it, as it was basically an oven, sink and refrigerator on one wall of the living room.  The important thing was that we could cook which allowed us to cut back to a very small meal plan.
Sarah Ruth would often make us some sort of breakfast on Saturday mornings.  Her specialty was panakuken, which was baked to perfection in her cast iron skillet.  Panakuken is a Dutch pancake made from thin batter that is cooked in oil or butter.  Sarah Ruth's were always airy and delicious and I hated having to wait for them to bake.  We'd enjoy it covered in syrup while we sipped coffee and watched TV.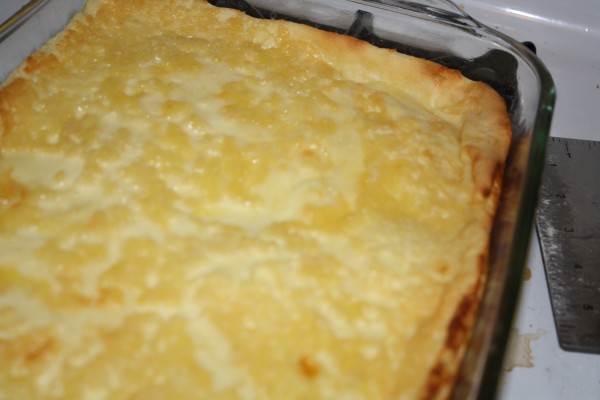 A couple of weeks ago, there seemed to be a surge of panakuken recipes on Pinterest.  I was immediately reminded of countless Saturday mornings spent enjoying this treat and I wanted to share the goodness of panakuken with my family.
I stumbled upon this quick and easy recipe that my family loved.  I don't have a cast iron skillet so I was excited to find a recipe that used a 9×13 instead.  I was skeptical that I would achieve my desired results but this breakfast dish was outstanding.  This dish puffs up as it cooks but once removed from the oven, it will deflate.  Don't worry when it happens with yours.  That's what it's supposed to do.
The ingredients are kitchen staples so you probably have them on hand.  It's an easy breakfast dish that your whole family will love.
Adapted slightly from The Recipe Critic
Panakuken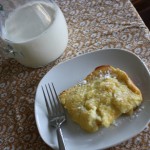 By JJ Published: March 6, 2013
Prep:

5 mins

Cook:

30 mins

Ready In:

35 mins
A light and airy pancake that your whole family will love.
Ingredients
Instructions
Preheat oven to 400. Place butter in 9x13 pan and put the pan in the oven.

Beat the eggs until combined.

Add the flour, milk, salt and sugar. Beat until all ingredients are incorporated. You should have a thin batter.

Once the butter has melted and started to bubble, remove the pan from the oven.

Slowly pour the batter into the pan, on top of the butter.

Bake for 30 minutes or until the edges are golden brown.

Serve with syrup and powdered sugar.

WordPress Recipe Plugin by ReciPress