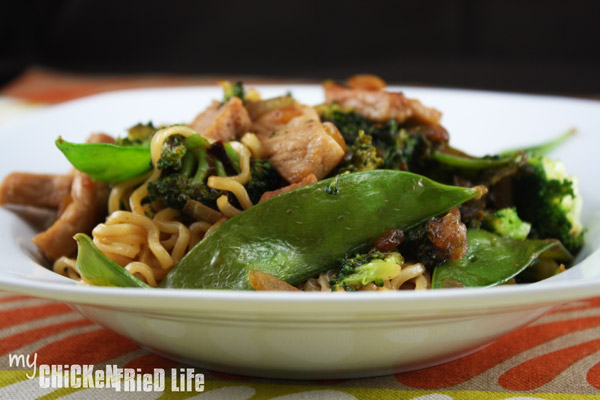 Have you ever been to one of those restaurants where you make your own stir-fry?  I still remember the first time I ate at a place called Stir Crazy.  My mom and I had come to Illinois to look for an apartment before I started grad school.  This trendy style of restaurant had yet to make it to our West Texas town and we thought it was so fun to choose the ingredients, sauce and protein for our own stir fry bowl.
I've eaten at similar restaurants several times since then and I really love the idea of using tons of ingredients to make your own culinary creation.  I've also realized that I'm not adventurous enough to make anything super interesting.  My combination is usually some variation of rice, teriyaki sauce, broccoli, edemame and steak.
Such a simple meal doesn't really warrant the price tag at a restaurant so I was thrilled when I found this Ramen and Pork Stir Fry recipe from Julie's Eats and Treats.  Essentially it's a meal that I'd enjoy at a restaurant that I could recreate at home.  I used different veggies from the original recipe to accommodate my family's preferences so you could easily swap out or add more veggies to your dish.
Initially, I was so skeptical about ramen stir fry because the sauce had ketchup as an ingredient.  I have no idea why I got so hung up on this minor detail.  It was our last night of planned dinners before a grocery store run and I didn't have another option so I went ahead with it, ketchup and all.  I was blown away by the ramen stir-fry I'd created.  And I was again reminded that stepping outside my culinary comfort zone is usually beneficial.
This ramen stir-fry is a quick and easy weeknight dinner that your whole family will enjoy.  The noodles are more interesting than steamed rice and my kids seem to be willing to eat veggies that have been stir fried.  What's you favorite dish to prepare on a busy weeknight?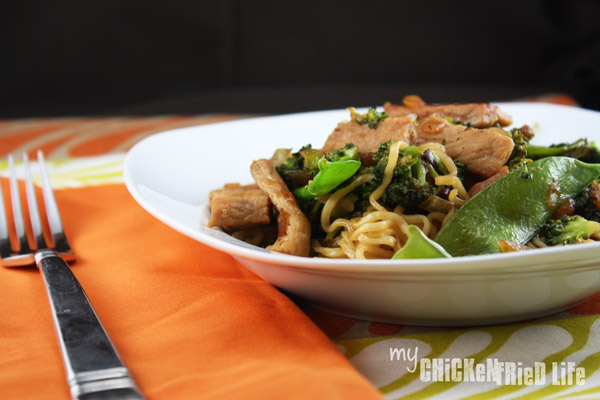 ingredients
1/4 cups soy sauce
2 Tbsp ketchup
2 Tbsp Worcestershire sauce
2 tsp sugar
1/4 tsp crushed red pepper flakes
3 tsp sesame oil, divided
1 lb boneless pork loin chops, cut in 1/2 in cubes
2 cups broccoli florets
2 cups snow peas
4 garlic cloves, minced
2 pkg (3 oz each) Ramen noodles
instructions
Whisk the soy sauce, ketchup, Worcestershire, sugar and red pepper flakes together in a small bowl. Set aside.
In a large skillet, heat 2 tsp oil over medium heat. Add pork and allow it to sear on each side. Once meat is cooked through remove from pan.
Add remaining oil to pan and cook broccoli for 4 minutes. Add snap peas and cook for an additional 2 minutes. Add garlic and cook for another 2 minutes or until broccoli is crisp-tender. Add pork then stir in the soy sauce mixture. Toss to coat.
While stir-frying the veggies, cook noodles according to package directions. Discard seasoning mix from Ramen noodles. Drain and then add noodles to the pan with pork and veggies. Toss again to combine.
https://www.mychickenfriedlife.com/ramen-stir-fry/
Recipe slightly adapted from Julie's Eats and Treats